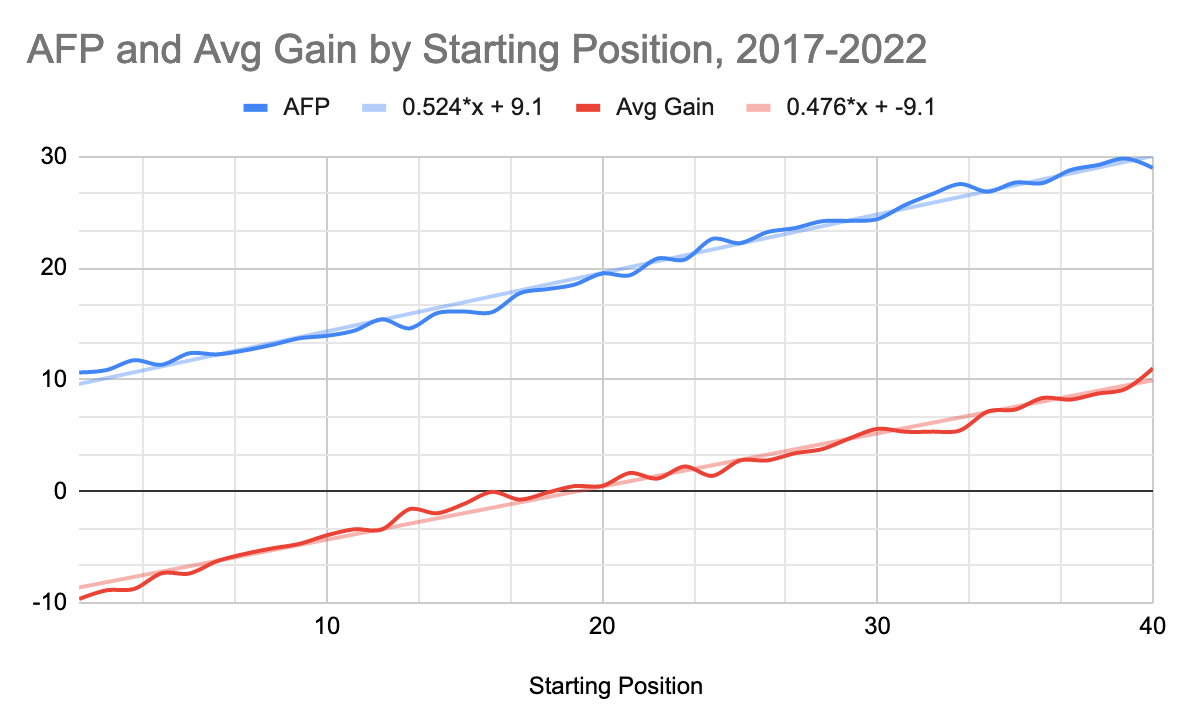 The chart above shows that a gain of one starting position, be it by lineup formula or qualifying, results in a half position gain in average finish. This is an aggregate across the last six years of NASCAR's three national touring series (Cup, Xfinity, and Trucks, for the recreational reader). Such a relationship is to be expected: if you qualify well, you're likely set up well for the track. It makes even more sense when you consider that, on average, the best teams are qualifying highest: of course they finish better.
The intercept - where the line starts on the left side - is where things get interesting. Starting a race on the pole still results in an average finish just outside the top ten. It's higher still when you isolate for just the Cup series. It's for this reason that teams should not practice for qualifying or set their cars up for qualifying. If you have a chance to choose between working on race speed or qualifying, almost all resources should be put into race speed - especially late race speed.
There's reason to believe teams like Penske / Wood Brothers, and the 8 at Richard Childress Racing have not been heeding this, based on their ΔPOMS. Is it any surprise that their drivers, particularly Ryan Blaney, Matt DiBeneddeto, and Tyler Reddick have been so hard fought for wins?
Justin Barber - Oct. 31, 2022, 9:43 p.m. (updated Oct. 31, 2022, 9:51 p.m.) - © 2023